Lorne Real Estate Weekly Report September 16
'Lorne Real Estate Market round up'. Another great early Spring result during the week with the full price home sale of a Grand Parade Lorne residence. The centrally located house boasted a great outlook and was only minutes to the main street. This great result further strengthens our beliefs and forecasts as to Lorne representing no better value than right now. As we press further into Spring and with a number of sellers having re-aligned their asking prices to meet the current market, there will continue to be buyer activity with the "astute buyers" now starting to recognise the opportunity.
To keep abreast of the daily news and Lorne real estate activity I invite you to follow me on twitter and facebook.
'Lorne – Weekly report'. A fantastic forecast of weather for the upcoming weekend to showcase our fantastic coastline. Amy's Grand Fondo commences early morning on Sunday and with in excess of 3,000 cyclists preparing to hit the road, the town will again be abuzz! The event commences in Lorne and the riders have the use and enjoyment of the Great Ocean Road to themselves to Skenes Creek. From here the route takes the participants over the Otway's to Forrest through to Deans Marsh and back to Lorne. Another great event for the town following the inaugural Lorne Performing Arts Festival last weekend. The Great Ocean Road coming into Lorne will not be closed at any stage, but between Lorne and Apollo Bay the road will be closed between Lorne and Skenes Creek from 7:00am to 11:00am.
Lorne Real Estate Open Houses
'Lorne – No better place in the world'. Enjoy this fantastic image from Kevan Way from Surfcoast Images of the sun wakening for another day. A magnificent site to inspire any one to get motivated for the day!!!
'Lorne – You must have a look at this'. For anyone looking for one of the most desirable 2 bedroom apartments with a brilliant ocean view at a realistic price – you can't afford not to look at Apartment 29 at the Lorne Chalet. This modern open plan apartment with lift access and undercover securing parking is priced to sell at $549,000
'Lorne – A little secret'. Two weeks ago I reported how at a recent gym session my "winter coat" had been identified as being too thick and in need of attention. You will also recall myself making a statement about parting with 1 dozen bottles of good wine should I not reach my target goal of 100kg or less by December 25. I am happy to report that after adding a couple of extra exercise sessions to my week that in the 16 days since September 1, I have lost 2.3 kg. On track to lose another 10.7 kg in 105 days – I hope!!
'Lorne – Quote of the week'. "Believe that life is worth living, and your belief will help create the fact" – William James.
See you in Our Backyard.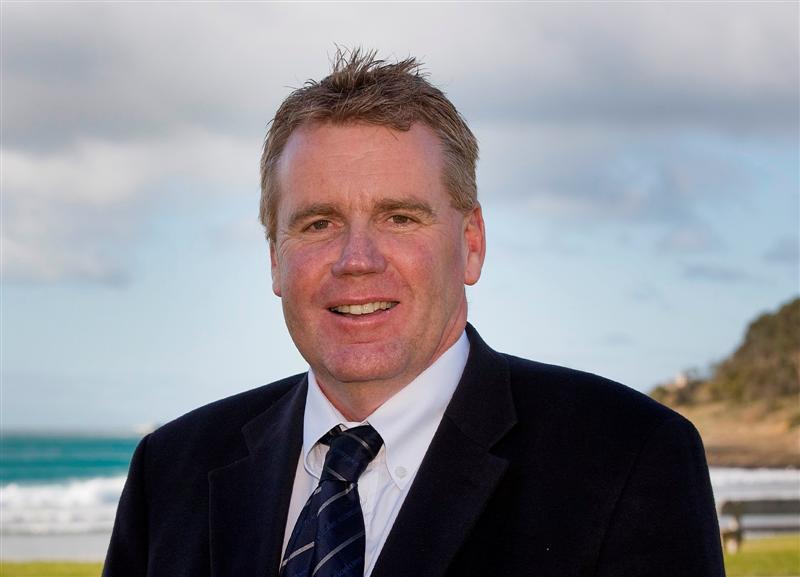 Ian Stewart
0418 522 571