I often talk about how impressive residents are in a local town and community with the additional responsibilities they take on. Amazing citizens really just wanting to make a contribution & have involvement with the view of implementing positive changes and continue growth in key areas.
These treasured angels are usually the humble ones that just get on and do things never with the objective to get praise but more motivated by adding value to the environment we live in. This week I would like to acknowledge one of our beautiful clients, a property owner that has sold with us, engaged our services for property management and generally been a beautiful person to deal with. We absolutely appreciate her loyalty and wonderful generosity of spirit, Beth has been a resident of Anglesea for 45 years and given so much to this town.
It absolutely thrills me that Beth has been officially recognised and awarded an Order of Australia Medal (OAM). Working in the neighbourhood house sector developed a passion for working in community.
Beth is a community advocate with extensive experience in community capacity building and good governance processes. Beth's passion for making a difference in community is demonstrated in three key areas: neighbourhood houses, local government and emergency management services, particularly CFA. Her focus is on making a systemic difference that supports good governance and community resilience. One of here most important achievements as councillor and Mayor on Surf Coast Shire was supporting the development of unique planning regulations that ensured Anglesea has maintained its coastal bushland character in spite of the development pressure on Surf Coast.
Beth was recently reappointed to the state Board of the CFA at a very challenging time with great opportunity to shape the future of this important community emergency service.
Beth remains involved at the local level as Secretary of the very vibrant Anglesea Community House and as a participant with Anglesea Community Network where she coordinates a series of Fire resilience sessions focused on how Anglesea people might support one another in a fire event.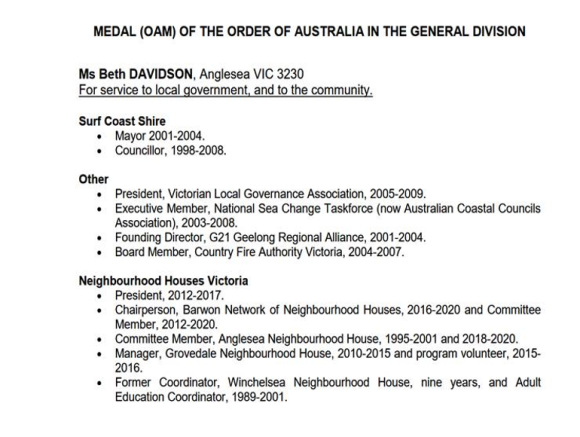 From all of us, we thank Beth Davidson for her involvement & dedication to the surf coast, more than that though of course we love to support an inspirational woman doing great work.
New Listings
45 Odonohue Road, Anglesea – Private Sale $1,950,000
8 Butterworth Crescent, Anglesea – Private Sale $860,000
43 Fraser Avenue, Anglesea – Private Sale $790,000 – $840,000
Kind regards
Kellie Saddington
Ph: 0488 980 994
kellie@greatoceanroadrealestate.com.au
Open For Inspections
Saturday 08th & Sunday 09th
31 Great Ocean Road 12.00 – 12.30